A Week of Quilt Tutorials!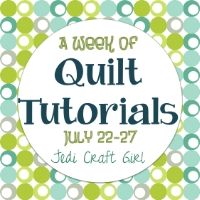 Happy Monday all!  Today I am participating in A Week of Quilt Tutorials hosted by another Amanda from Jedi Craft Girl.  If this is your first time visiting, welcome!  She will have links to fabulous quilt tutorials all week long, so be sure to check them out.
Amanda has asked that I share my Disappearing Four Patch tutorial.  I have to admit that when I posted this tutorial, I had no idea how popular it would be.  A day has not gone by without a visitor who found my blog by searching for a tutorial on the disappearing four patch...crazy!
So, click here to see how to make this cute and fun quilt.
Thanks for stopping by and I can't wait to see the other quilt tutorials throughout the week!